Achieving our mission requires supporting our scholars and other Latino college students to persist and graduate from college.  Our university programs provide 360° Support to help students understand the rigors of college life, prepare them in their goal to graduate from college, gain leadership and professional skills, and encourage them to reach out to their communities.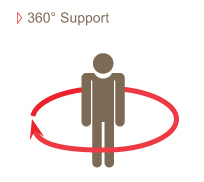 Academic Support & Mentoring
Study skills resources
Leadership & Professional Training
Nationwide Peer Support
Graduate School Preparation
HSF's Scholar Chapter Network in 37 college campuses nationwide
Academic Cohort Programs include the Rising Star Program in Colorado and Texas, which work to target promising high school students for college admission; the Inland Empire Program, which focuses on students in this Southern California region; and the 10,000 Women Global Initiative that provides financial and mentoring support to help Latinas pursue non-traditional career paths.